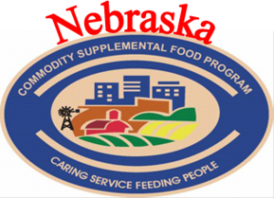 The Commodity Supplemental Food Program (CSFP) is a Federally Funded Program Sponsored by the USDA Farm Bill that provides healthy and nutritious USDA foods each month at no cost to eligible seniors age 60 and greater.  Central Nebraska Community Action Partnership (CNCAP) packs and distributes the CSFP packages every month at chosen locations throughout the CNCAP coverage area.  Packages contain a variety of foods, such as non-fat dry milk, ultra high temperature fluid milk, juice, Farina, oats, ready-to-eat cereal, pasta, peanut butter, cheese, canned meat or poultry, and canned fruits and vegetables.
Applicants must reside in Nebraska, are citizens of the US, and must meet income guidelines set forth by the USDA.  To see if you met Federal and State guidelines, please call your location listed below, and bring the following to your appointment:
Current US or Nebraska ID for each person applying for commodities (birth certificate, or another document verifying date of birth)
Proof of address (utility bill or other mail with name and current address, and must be postmarked within the last 30 days)
Proof of income for everyone in the household, including those under age 60 ( pay stub, enemployment statement, tax return, social security letter, etc.)
To see how CSFP can help you please call the closest office to your home.

Columbus: (402)564-1124 Ext. 208.
Serves the following counties: Boone, Colfax, Nance & Platte.​


Grand Island: (308)385-5500 Ext 411.
Serves the following counties: Greeley, Hall, Hamilton, Howard & Merrick.


Loup City: (308)745-0780.
Serves the following counties: Blaine, Custer, Garfield, Greeley, Howard, Loup, Sherman, Valley & Wheeler.

O'Neill: (402)336-4298 Ext. 503.
​Serves the following counties: Boyd, Brown, Cherry (East), Holt, Keya Paha, Rock & Wheeler.​