What is WIC?
WIC is the nation's most successful public health nutrition program. We can provide healthy food, nutrition education, and community support to income-eligible pregnant women, mothers of infants and children up to 5 years old. 
Who is eligible for WIC?
Anyone who meets at least one criteria from each column below:

What does WIC offer?

Peer Counselor Program -  A WIC peer counselor is a mother in the community with personal breastfeeding experience who is trained to give information and support to new moms. She will mentor, coach, and support you. She can give you: basic information about breastfeeding, ideas on how your family and friends can support you, ways to get a good start with breastfeeding, tips for a healthy supply of breast milk for your baby, support when you have breastfeeding concerns, tips on how to breastfeed comfortably and discreetly, and advice to help you stick with breastfeeding after you return to work or school.
Breast Pump Program - If you can't get a breast pump through Medicaid or you don't have insurance, you may be able to get or rent a pump through WIC. 
For more information about WIC, please visit this website.
For questions about our Valentine, Ainsworth, Atkinson, Spencer, or O'Neill Clinics or if you attend one of these clinics, please call (308)745-0780 Ext. 137
For questions about our Ord, Burwell, Loup City, Broken Bow, St. Paul, Greeley, Central City, or Aurora clinics or if you attend one of these clinics, please call (308)745-0780 Ext. 137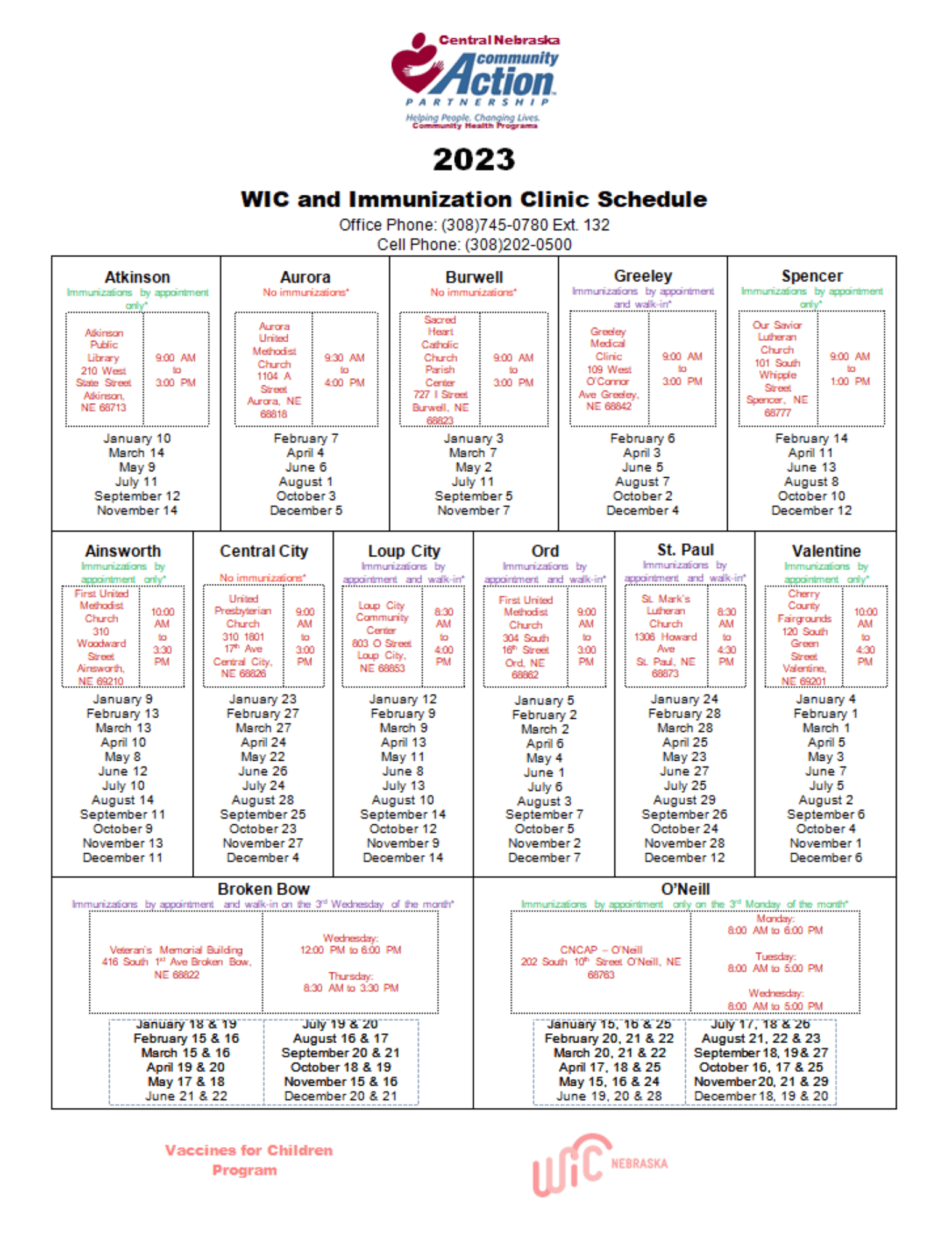 In accordance with federal civil rights law and U.S. Department of Agriculture (USDA) civil rights regulations and policies, this institution is prohibited from discriminating on the basis of race, color, national origin, sex (including gender identity and sexual orientation), disability, age, or reprisal or retaliation for prior civil rights activity. Program information may be made available in languages other than English. Persons with disabilities who require alternative means of communication to obtain program information (e.g., Braille, large print, audiotape, American Sign Language), should contact the responsible state or local agency that administers the program or USDA's TARGET Center at (202) 720-2600 (voice and TTY) or contact USDA through the Federal Relay Service at (800) 877-8339. To file a program discrimination complaint, a Complainant should complete a Form AD-3027, USDA Program Discrimination Complaint Form which can be obtained online at: https://www.usda.gov/sites/default/files/documents/USDA-OASCR%20P-Complaint-Form- 0508-0002-508-11-28-17Fax2Mail.pdf, from any USDA office, by calling (866) 632-9992, or by writing a letter addressed to USDA. The letter must contain the complainant's name, address, telephone number, and a written description of the alleged discriminatory action in sufficient detail to inform the Assistant Secretary for Civil Rights (ASCR) about the nature and date of an alleged civil rights violation. The completed AD-3027 form or letter must be submitted to USDA by: 1. mail: U.S. Department of Agriculture Office of the Assistant Secretary for Civil Rights 1400 Independence Avenue, SW Washington, D.C. 20250-9410; or 2. fax: (833) 256-1665 or (202) 690-7442; or 3. email: program.intake@usda.gov
This institution is an equal opportunity provider.