CNCAP Helps Single Mom in Burwell, NE Overcome Obstacles
Kaci is a single mother of four (4) year old Royce and three (3) year old Frank. Kaci and the boys moved to Burwell to live with Kacis' parents due to a change in life's circumstances. With dedicated support from her parents, Kaci has gained employment and now lives with the boys in their own home.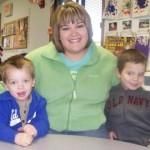 This is Royce's 2nd year of attending the *Calamus Kids Preschool. Initially, Royce did not know his ABC's, letters, numbers, shapes, didn't talk and lacked social skills when interacting with other children. Royce is now learning his letters, numbers and with the help of a speech therapist has improved his speech. Royce has also made improvement in developing age appropriate social skills at the preschool.

Frank was enrolled into Early Head Start – a birth to age three program. His mother Kaci worked with Early Childhood Educator Becky Mroczek in the areas of potty training, bedtime routines, and the use of a cup instead of a bottle. Frank no longer uses a bottle, is potty trained and is currently enrolled at Calamus Kids Preschool in the morning class. Frank, Royce, and Kaci, with the help of teachers, family consultants, and school specialists, are all benefiting from Early Head Start objectives as well as continued success in school readiness initiatives implemented by Calamus Kids Preschool Program.

Program Home Visitors worked with Kaci to set goals in the areas of budgeting, attaining her own home, budgeting, parenting skills and more. Helping her to connect to resources provided additional strengths in her ability to attain each of her goals.
Staff of both the EHS and Preschool Programs are proud of the accomplishments and continued success this family is achieving as a result of our engagement and joint efforts with this family!!!

*The Calamus Kids Preschool is a collaborative venture between Burwell Public Schools, Loup County Public Schools and Central Nebraska Community Action Partnership Head Start.